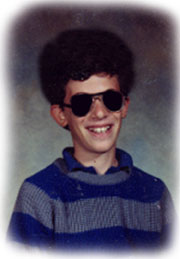 Your publisher - always stylin'
All you need to know about Backwash:
Backwash zine started in the summer of '95.The idea for it came one day while going through my closet at home and finding my old Phoney Baloney newspapers I made when I was 11 on the Newsroom for the Apple II+. I was quickly reminded of the fun of publishing, and decided to do it again. So here we are, with the 14th issue -- issue #74. Damn.
Backwash is sold nationally and internationally by Tower Records, and is also distributed to small book stores and a few Borders book stores by Desert Moon Periodicals. I also send it to a few places on my own.
Backwash has little or no effect on the weather.
Email me about ordering Backwash, the print version — you can stick it in a bag or a large pocket, or maybe give to a friend to carry in his or her bag.