The world's first camera attached to a goiter, thereby allowing us to see the reactions of shock and horror it receives every day. GoiterCam™ attaches to the goiter with a special elastic gizmo, specially designed by our friends at BW Industrial, Inc. We thank them for their cooperation.
Now, let's see how people reacted to Beth during her day: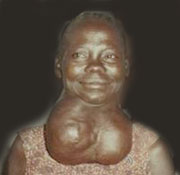 Monday, Feb. 14, 2000
Today was my first day at work. I sure was excited. I had been doing mostly tunnel work, so I could be in the dark where most folks couldn't see me. But the lack of sunlight was giving me rickets, and I just wasn't up for rickets. Two goiters are enough, thank you. My new job was during the day and in an office! People could see me and everything. Some of them said hi. Some of them just looked at me. I guess when there's someone new you tend to give them a weird look. It's really hard for me to say. But a new face can be startling. I think once they get to know me, they'll really embrace me and my goiters. Eventually, I think they may even lose the urge to smack them with a baseball bat. The last time that happened it really smarted. Cracked the bat too, but it wasn't mine, so it wasn't my concern. Anyway, my new job is at an ad agency. I dust the plants around the office. It's not glamorous by any means, but it gives me joy knowing the leaves are clean and sharp looking. Plants help brighten people's days, and if I'm a part of that, then I too help brighten people's days. Even if not, I still like to think I'll have an impact on my co-workers' days. When I'm done with the plants, I get to play a lot of Snood on the computer. And sometimes I try to apply some makeup to help hide the goiters. I figure I may as well.
*If GoiterCam™ is not working, it may be your damn browser. However, rest assured the problem is being service. A certain Mr. Scott Smith will be applying his expertise to remedy this tragic problem. If only his sharp skills could help Beth, our first goiter victim.
Back to Backwash